Jakarta (ANTARA) - Groundbreaking will be performed for the construction of what is expected to be Southeast Asia's largest glass industry in Batang industrial area, Batang district, Central Java in May this year, President Joko Widodo has announced.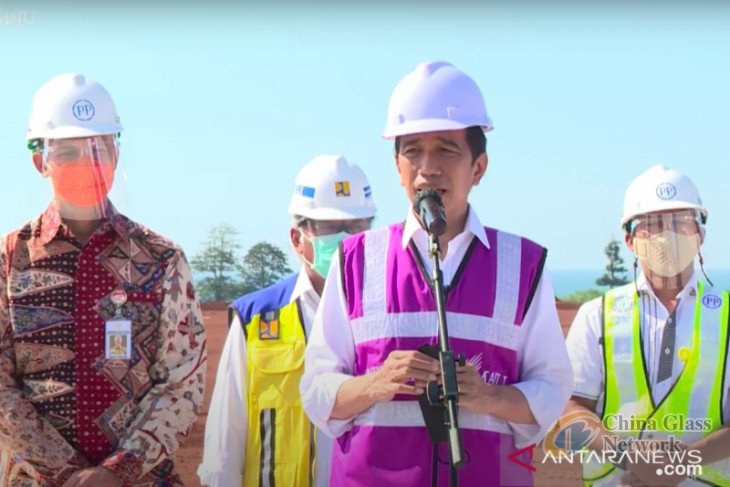 "I am checking the readiness of the Batang industrial area because later, in May, there will be a groundbreaking, laying of the first stone for the glass industry. Perhaps, it will be the largest glass industry in Southeast Asia," the President said while visiting the Batang Industrial Estate in Central Java on Wednesday.
After the glass industry, an industry for building precursor and cathode components will also come up in June or July, 2021, the President disclosed. These two components are often needed in the middle and downstream sectors in the nickel industry production line, he said.
The industrial area is planned to span 4,300 hectares, and currently 450 hectares are ready for use, he noted. The industrial estates that are ready to be developed will also be used for industrial development related to technology, he added.
"Earlier, I ordered the management (Grand Batang City) so that it (the industrial area) can be used as soon as possible and we can build it and we hope it will absorb as many workers as possible," he said.
The President expressed the hope that with the operation of the Batang industrial area, direct investment will enter Indonesia more rapidly and help speed up the recovery of the domestic economy.
"I will regularly check the Batang Industrial Estate because this is a huge area with great competitiveness. We will make this an example for later industrial estates in other provinces, both in Java and outside Java," Widodo declared.
During the visit, President Widodo was accompanied by Minister of Public Works and Public Housing, Basuki Hadimuljono, head of the Investment Coordinating Board (BKPM), Bahlil Lahadalia, and Governor of Central Java, Ganjar Pranowo. (INE)